Skip to product information
Quinta do Tamariz
Quinta do Tamariz Pét-Nat Loureiro White 2021
$29.99
Imported from Portugal

100% natural ingredients

Delivery to 45 US States
Wine doesn't get much more exciting than this! Made in the ancestral method with little intervention, this wine is fizzy, fresh and crisp, with much smaller, softer bubbles. As this is such an artisan wine, the label pays tribute to the most famous artisan products of the city of Barcelos, the Figurado de Barcelos. The label of this first edition has a set of figurines by Julia Cota, consecrated artisan of Barcelos, and granddaughter of Domingos Cota, the creator of the Barcelos Rooster!
Region: Cávado, Vinho Verde, Portugal

Grapes: Loureiro

Occasion: Dinner Party / Celebrations

Pairing: Seafood, Cured Meats & Cheeses

Tasting Notes: Citrus, Peach, Dried Fruit & White Flowers

Class: Natural Unfiltered Pét-Nat

Type: Dry White

Style: Sparkling (Ancestral Method)

Serving: 42°F - 50°F

Sugar: 3.8 g/L

Alcohol: 13%
We currently ship to the following 34 states: AZ, CA, CO, CT, DC, FL, GA, IA, ID, IN, KS, LA, MD, ME, MN, MO, MT, NC, ND, NE, NH, NM, NV, NY, OH, OR, PA, SC, TN, VA, WA, WI, WV, WY
For the following 9 states, we're able to delivery to select zip codes: DE, IL, KY, MA, MI, NJ, OK, RI, TX.
We try our best to keep shipping prices as low as possible! Unfortunately, wine is *heavy*, and that means there will be a slight charge for orders under $200 - But it won't cost you more than $19.999! That's reasonable, yeah?
FREE LOCAL DELIVERY: Available now, anywhere in San Diego, CA, with delivery within 1 -2 business days.
CALIFORNIA STANDARD GROUND SHIPPING: On orders under $200, Flat rate delivery anywhere in California is $9.99.
OTHER STATES STANDARD GROUND SHIPPING: On Orders under $200, Flat rate delivery outside of California is $19.99
DELIVERY IS FREE ON ORDERS $200+*
No coupon required!
*Free Delivery excludes Hawaii & Alaksa.
Wow
Wow what a crazy drink! This was my first petnat experience and I'm now hooked! A totally different experience to normal sparklings - better I think in fact! Really cool and fun!
Pretty Pet-nat
Lovely, cloudy, cider like, with apple & pear with some white flowers. Cool bottle too
Why Our Wines Are 'Better For You'...
Congrats on choosing the right boozy path!
| | The Vinho | Mass-Produced Wines |
| --- | --- | --- |
| Small batch wines that are unique & exclusive | | |
| Free of unnecessary chemicals & additives | | |
| Sustainable farming practices & environmentally conscious | | |
| Hangover Free (Kidding! Sorta...) | | |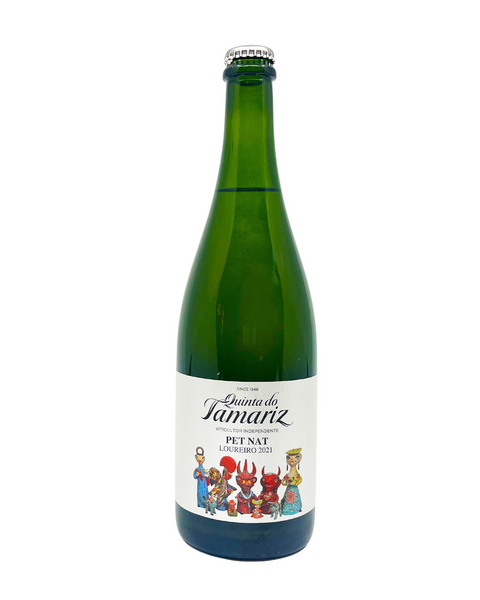 Quinta do Tamariz Pét-Nat Loureiro White 2021
$29.99