Shipping & Delivery
Shipping wine can be a bit tricky - but we aim to make the process as easy as possible. You're in good hands with us & our shipping partners, who guarantee a smooth delivery in nearly 99% of all shipments.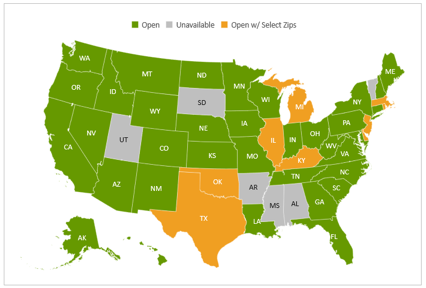 We currently ship to the following 34 states: AZ, CA, CO, CT, DC, FL, GA, IA, ID, IN, KS, LA, MD, ME, MN, MO, MT, NC, ND, NE, NH, NM, NV, NY, OH, OR, PA, SC, TN, VA, WA, WI, WV, WY
For the following 9 states, we're able to delivery to select zip codes: DE, IL, KY, MA, MI, NJ, OK, RI, TX.
To confirm if shipping is available for your area, enter your zip code at checkout to see your shipping options.
For all other states, unforunately we're only able to ship to states which have laws that permit shipment of wine directly to consumers.
The laws regarding the direct shipments of wine are constantly changing, however. We will continuie to expand our service area as new laws permit, and we are optimistic these restrictions will gradually dissapear as customer demands continues to grow!
We try our best to keep shipping prices as low as possible! Unfortunately, wine is *heavy*, and that means there will be a slight charge for orders under $200 - But it won't cost you more than $19.999! That's reasonable, yeah?
FREE LOCAL DELIVERY: Available now, anywhere in San Diego, CA, with delivery within 1 -2 business days.
CALIFORNIA STANDARD GROUND SHIPPING: On orders under $200, Flat rate delivery anywhere in California is $9.99.
OTHER STATES STANDARD GROUND SHIPPING: On Orders under $200, Flat rate delivery outside of California is $19.99 (*US Continental only)
DELIVERY IS FREE ON ORDERS $200+*
No coupon required!
*Free Delivery excludes Hawaii & Alaksa.
For West Coast deliveries, ground shipping typically takes 2 - 3 buisness days, and for East Coast deliveries, shipping takes 4 -7 business days.
Deliveries are made on Monday - Friday during regular working hours and they'll require a signature from somebody over 21 years old.
You will get an order confirmation email when you place your order, and a separate tracking email when we get your tracking info from the carrier.
We use UPS & FedEx for all shipments.
We use a regional service for the last leg of shipping to the following states: Delaware, Illinois, Kentucky, Massachusetts, Michigan, Oklahoma, Rhode Island, & Texas.
Yes; You must be at least 21 years old to order and recieve alcohol deliveries.
Local deliverys will be personally delivered throughout San Diego by us. After you place your order, we'll contact you to arrange a drop-off time that works for you.
*By using this site, you confirm that you are at least 21 years of age.
The shipper will attempt to deliver three times. If you're having delivery issues, then reach out to us and we can figure out the best way to get you your wine.
When ordering as a gift for someone, be sure to enter in your email address to receive all summary information but enter in the recipient's name and shipping information. We will be sure to keep all prices and receipts out of the package.
About Us
Want to know more about us, and our store's policies? We've got you covered here.
We do not have a physical store, we are online only. We are based in San Diego, CA, and all orders ship from our warehouse, which is located at 11436 Sorrento Valley Rd, San Diego, CA 92121
Our wines are stored in a specialized temperature-controlled facility for wine storage. They're great, check them out -Chateau 55
All our wines are sourced directly from vineyards in northern Portugal, from the Vinho Verde region.
We import all our wines ourselves, and transport them to our wine to a storage facility in San Diego, CA. Then we ship itI to you!
If for any reason you are not completely satisfied with your purchase, within 30 days of placing your order, we will refund you for your purchase with no questions asked.
We import all our wine directly from our winemakers - no middle man!
Payments
We accept a wide range of payment options, and offer flexible installments for wholesale ordering. Find out more below!
If you want to cancel your order for any reason, jump on our live chat asap and we'll cancel it for you and give you your money
back.
Unfortunately, due to the nature of the product (food & beverage), we're unable to accept returns.
If, for some reason, you believe your wine has been damaged or is not what you ordered, shoot us a message to support@thegreenwine.com and we'll take care of itI ASAP.
We accept PayPal, Visa, MasterCard, Discover, and American Express but feel free to contact us for other payment options.
You can track your order and request changes to your delivery using the link we'll send you in your order confirmation email.
We will send tracking information to the e-mail address associated with your order once the item has shipped. If you have not received your tracking information and it has been over 2 business day, please contact us at (012) 123 - 4567